Laut dem australischen Unternehmen Cochlear, nehmen keine zwei Menschen die Welt auf die gleiche Art und Weise wahr. Jeder sieht und hört seine Umgebung ein wenig anders. Deshalb hat man sich dazu entschieden, gemeinsam mit Audiologen und Tontechnikern das Tool "Hearprint" zu entwickeln. Das Programm wird als Erweiterung für Googles Chrome Browser angeboten und ist auf eine Reihe individueller Benutzereingaben angewiesen.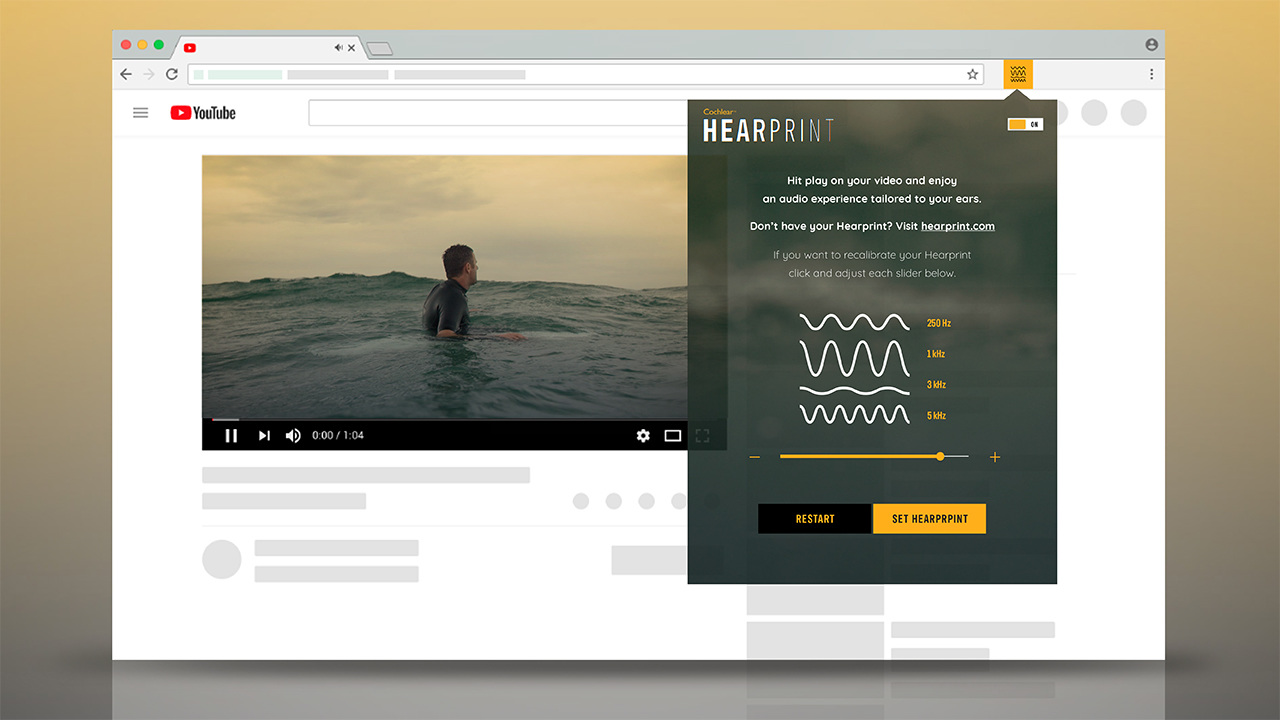 Die Daten werden dann dazu genutzt, Onlinevideos und -musik dem jeweiligen Hörvermögen des Nutzers anzupassen. Im Setup der Chrome-Erweiterung durchläuft man verschiedene Hörtests, bei denen man den Regler so verschieben muss, bis man die angegebenen Töne einwandfrei wahrnimmt. Aus den Ergebnissen werden die Audiofrequenzen auf die Fähigkeiten des Hörers abgestimmt und für Onlineinhalte angepasst.
Das Tool funktioniert damit ähnlich wie die Cochlea-Implantate, eben nur durch die Lautsprecher eines Computers. Das Besondere: Der Hörnerv wird je nach Situation stimuliert, anstatt einfach die Lautstärke aller hörbaren Geräusche in der Umgebung aufzudrehen. Dabei werden nämlich alle Töne auf das gleiche Niveau angehoben, sodass ein Flüstern genauso nah klingt, wie das Runterfallen einer Pfanne im Nebenraum. Mit den Cochlea-Implantaten und dem Chrome-Tool tritt dieses Problem nicht auf.
Um das Programm anzuwerben, wurde eine passende Kampagne von Cochlear ins Leben gerufen. Im Mittelpunkt stehen dabei erfolgreiche Menschen, die unter Hörproblemen leiden. Der Nutzer kann sich die Inhalte direkt mit der Chrome-Erweiterung anschauen, um sofort zu erfahren, wie sich ein maßgeschneidertes Hörerlebnis anfühlen kann.
"We don't want to just make ads for Cochlear, we want to create experiences that help people reconsider their hearing and how Cochlear could help. Every day, thousands of Australians aren't hearing as they should so for those people, the Hearprint turns every video on the Internet into a chance to realise there's a better solution." Says Brian Jefferson, Creativ Director, CHE Proximit
Falls ihr Hearprint einmal ausprobieren wollt, könnt ihr euch auf der Internetseite von Cochlear darüber informieren oder das Tool über diesen Link herunterladen.
Quelle: hearprint